Customer Security Service Hosts supporting The Business Improvement Districts
Whilst many Towns and Cities across the UK are experiencing issues with crime and anti-social behaviour, they also do not want unsightly areas with rubbish or graffiti. Every area wants to be somewhere people want to work, shop or visit. To assist with that, we deliver a Customer Security Service Team or Welcome Hosts.
The team has a primary delivery focus; to create places that are pleasant to work in and to visit, reducing criminality. They primarily welcome all visitors and represent the community they look after. They are there to support the levy payers, the council and the local Police – a positive combination to improve place perception, making locations great places to visit, pleasant to live within, while increasing area visitor numbers and boosting the area prosperity.
It is my absolute pleasure to recommend Lodge Security. Slough Town Centre BID have had the pleasure of working with the Lodge Security Team for the past 12 months and they have been thoroughly professional, supportive and completely knowledgeable of the BID industry and the needs of a Business improvement District.
They have been proactive in linking us with great town wardens, ensuring that the team are the correct fit for the town centre and assisting with additional needs for a BID from working with us for our BCRP meetings to hosting our first Safer Business Awareness Day.
I would have no hesitation in recommending Lodge Security to any BID and please do feel free to contact me should you require any further insight to my experience. I'd be more than happy to expand on my recommendation.
Buying behaviours, consumer desire, ever increasing labour costs, and violence against shopworkers, all put on huge pressures. It`s not just retailers that face suffering, business sectors both in the day and the night time economies are negatively impacted.
With Police pressures at their peak, Lodge as your service providers, will support business and residents, protecting the community. We understand that Business Improvement Districts have safety and security initiatives as a main priority.
What are Lodge Service Welcome Hosts?
Lodge Service Welcome hosts are staff deployed by business improvement districts (BIDs) to provide a welcoming presence and helpful information to visitors in commercial areas. Here are some key things to know about welcome hosts:
Friendly face
Welcome hosts act as a friendly face to greet and assist people visiting the business district. They represent the area and provide a positive visitor experience.
Local experts
Welcome hosts act as a friendly face to greet and assist people visiting the business district. They represent the area and provide a positive visitor experience.
Safety presence
Their presence contributes to public safety and deterring nuisance activities like loitering or harassing customers.
Cleanliness
Some hosts may help maintain cleanliness by doing light litter removal, reporting issues, or operating public recycling/trash bins
Directions
They can provide directions, make recommendations, and guide people to points of interest within the district.
Information
Welcome hosts distribute maps, brochures, coupons, and other useful information about shopping, dining, events, and offers in the area.
Assistance
They are ready to assist with minor issues like questions, wheelchair assistance, or contacting proper authorities when needed.
Brand ambassadors
Their professional and welcoming demeanour promotes the brand image and visitor perception of the BID.
Feedback
Hosts can collect visitor feedback and suggestions to help improve the district and report issues needing attention.
The goal of welcome hosts is to deliver excellent customer service and ensure people have a great experience visiting and exploring the business improvement district.
Customer Service
The Service Hosts that represent the BID and the levy payers are foremost, a welcoming and helpful sight. They will be in a uniform that is chosen by you. It will reflect the imagery you wish to project.
They go through rigorous training which is developed for every individual area, as every BID is different and requires different elements. The training we deliver is  Is it?
They are happy to be involved in events held by Levy payers or the BID. To engage in breakfast, lunch or evening meetings. To receive BID campaign briefings and be the knowledgeable person, anyone can turn to.
It requires a special kind of person, to be able to be a host to the many different types of people who will be visiting – from workers to tourists. They will be experts in your area. They are that point of call.
Environmental
It is important to everyone within a BID area, that it is clean, presentable and welcoming.
It is the Hosts role to log and report any issues they see immediately, so they can be dealt with.
From litter, water pollution from blocked gullies, vandalism, graffiti, fly posting, anything abandoned and left there, to lights broken.
We work with a host of reporting platforms and can discuss with you, the one most suitable for your needs.
Our team carry reporting devices and every issue is logged, with photographic evidence and sent immediately so the relevant team can resolve the issue. It will log the day, time and precise area. This information helps build a picture as to which areas, have the most issues and what those issues are.
Enhancing Business Improvement District Security
Our Hosts, are not only customer facing but have undergone their SIA training with ACT included so that they are able to use that training to reduce crime in the area.
To support the safety and security initiatives of a BID, Lodge have modelled an intelligence and risk led partnership strategy that moves away from a traditional security service designed to support BID areas and business, target hardening problem areas against offenders and those bringing harm to our communities.
Please check out our insight into a day in the life of a BID Support Ranger
Customer Led Business Improvement District Security
Our vision is to deliver a fluid and flexible operating model supported by a local crime management team or Business Crime Reduction Partnership, which target community deployment against the risk, with best use of spend, delivering true Return on Investment for the BID security service.
The model optimises security deployment and dynamically manages the location risk profile.
Community Safety Measures
As part of a wider strategy, the very basics of a BID wide radio link, civil exclusion scheme, street warden team, and a secure database of offenders will be implemented to help promote community safety whilst reducing vulnerability to those who may be suffering in the community.
What is a Business Improvement District?
Business Improvement Districts (BID`s) are business-led and funded to improve commercial areas.
 There are many benefits, including:
Representation, a joined-up voice on the issues affecting their area.
Ring-fenced money for exclusive use by Levy payers in that BID area.
A BID creates a clear focus, reporting and managing crime, relationship building with Security partners and Police.
Enables full control and implementation of what area business wants.
Improves the area, increases visitor footfall, spend and economic prosperity.
Positive business users and staff retention.
Joined up marketing and promotion.
Volume purchasing power.
Advice in place management, shaping area vision and activities as one.
Networking opportunities with neighbouring businesses.
Effective partnership with Councils, Police and other stakeholders.
Your Trusted Security Partner – 100 Years' Experience
Lodge Service are one of the top security companies in the UK, amongst the top 1% - a "Pacesetter" accredited and scored 140 / 145 within ACS Approved Contractor Scheme.
We have unrivalled experience since our formation in 1919, we would be keen to discuss the range of our services with you.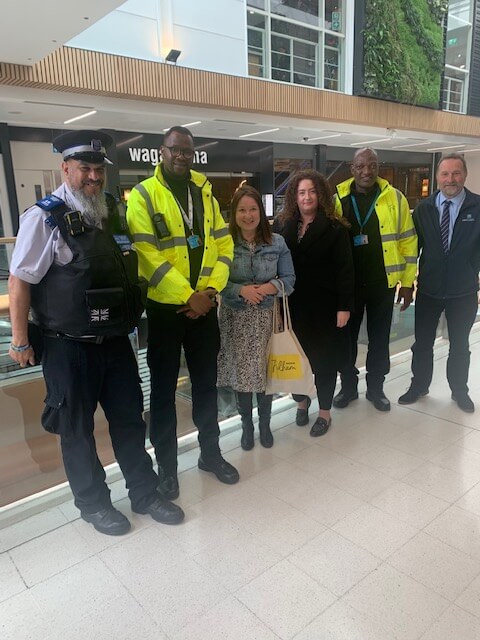 Our Business Crime Partners
SWBCC
"Many BIDs are currently operating in a non-compliant manner, whether equipment, software, or their data sharing and/or processing, so the risk is real.
Penalties for non-compliance include imprisonment or significant fines. This should not deter BIDs from delivering this work but stresses the importance of procuring support from actual experts in this area to ensure compliance is maintained.
Southwest Business Crime Centre offers a number of services that can help you achieve this and mitigate your risk vulnerabilities"
SBN
"Safer Business Network works successfully with Business Improvement Districts (BIDs) across London, supporting them to deliver against their crime and safety priorities as outlined in each BID Business Plans.
Partnership is at the heart of what SBN do, providing a tried and tested BCRP model creates safe environments for businesses, staff and their customers through effective information sharing and productive relationship with Police forces and Councils; tackling crime at a local level.
When engaging in your footprint, the SBN team ensures businesses are fully aware that we are working on behalf of the BID and delivering an additional level of support and expertise that comes directly from the BID.