Only last month we set out publicly the future of Lodge Service, to ensure we remain leaders in the security market and continue to offer another 100 years of service to our customers and the community.
This last year has seen significant changes in our focus and industry standing, moving further into the Elite security model allowing us to deliver cutting edge technology integrated with Elite security personnel to those business sectors that want to properly ensure the safety and security of their, people, property and places.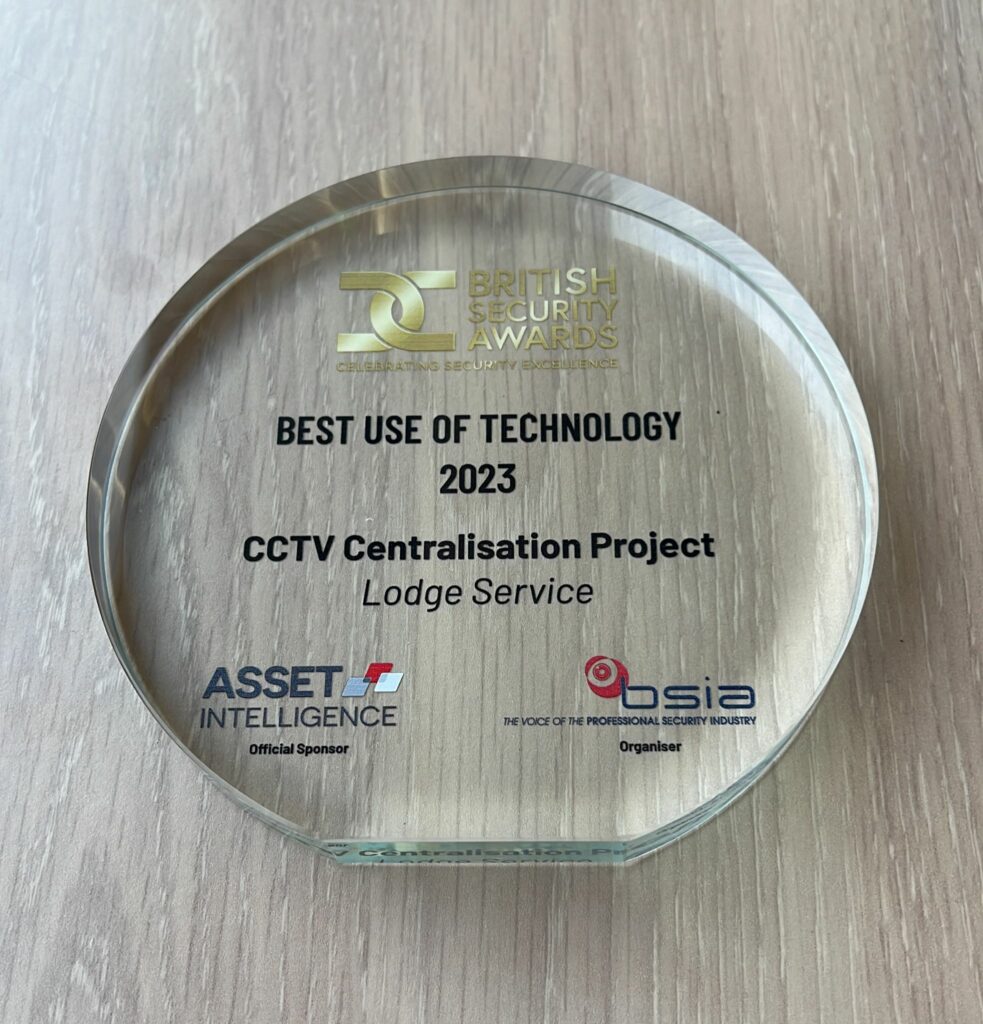 As a team we have been honoured to deliver Elite Security Services to many clients, including Marble Ach BID, SpaceNK, NIKE, Lacoste, Fulham BID, New Look, H&M, Slough BID and many others. Most businesses now recognise that the race to the bottom on cost does not offer a true return on investment and protect what they are investing in.
With Lodge Service Internationally renowned for offering Security Personnel and Loss Prevention services, it has been a challenge to get our in house technical division, that has been 20 years in the making, known on the international market.
Finally however we have landed!
Arriving for the BSIA Awards 2023 at the Grand Connaught Rooms in London, our team of nominees scrubbed up well to sit in a very warm venue, quickly removing ties and blazers! Sitting at our respective tables with over 500 security professionals and industry leaders present, it was daunting for some who hadn't experienced these events before.
Lodge were already winners of Regional Awards in the following categories:
Service to a client – Lodge Security
Best Newcomer – Aimee McCall
Outstanding Act – Babar Awan
So as we awaited the much anticipated national awards, it was fantastic for Lodge Service team to be recognised further and win the following:

Outstanding Act – This award was won by our Elite Security Officer – Babar Awan
Babar intervened in a very dangerous armed confrontation at our clients premises to prevent injury to a young customer. Putting himself in harms way to prevent what could have been a very serious incident. Babar didn't stop when the threat had been dispersed, utilsing his elite training Babar continued to assist in the apprehension of the armed offenders, leading to the recovery of weapons and arrests.

The BSIA stated in their reasoning for recognising Babar this prestigious award: ''Babar's actions in dealing with a violent gang whilst protecting their intended victim, team members and customers, has been praised, highlighting his bravery, tenacity and professionalism. His quick reaction on the day played a significant part in the offenders being apprehended''.
Best use of Technology – CCTV Centralisation Project
Our client challenged Lodge Service with building a Security Operations Centre (SOC) on their head office premises to allow the store based CCTV systems to be available remotely.

This seemed a straight forward project, but then came further requests!The SOC needed to include a centralised platform allowing the integration of ANPR, Scan Avoidance, case file management, trolley push out, fridge/freezer alarms, EPOS data analytics, weapon detection and Smart shelves.

Easy! The SOC is now a fully operational site designed, built and operated by Lodge Service personnel. The BSIA stated in their reasoning for awarding Lodge Service this:''Lodge are being awarded for proving experts in technology, project management and recruiting a great onsite team, meeting the client's requirements in successfully building a National Security Operations Centre.

The client now has a highly secure and reliable system that has maximised security innovation and helped minimize losses''.
These awards have been a true reflection of all we stand for as a team and are delivered with the honesty and integrity our customers have come to expect from us over the last 103 years.

Thank you to all our teams that deliver for Lodge Service on a daily bases and to the wider security family for all they do to keep our communities safe.

To find out further on the Elite services we have to offer, visit our website lodgeservice.com or please contact Darren Conway [email protected]